Tuesday, March 20, 2001
Hot air fans three students to victory
By Siow Yuen Ching
PENANG: Tired of constantly adjusting the speed of their classroom fan, three students invented an automatic fan which changes its speed according to the room temperature.
The Form Five students--Salma Yasmin Mohd Yusuf, Nurul Afiqah Ali and Wan Nurhayati Wan Muhammad--of Kolej Tunku Kurshiah in Seremban did their school proud when they emerged champions in the Intel Science Innovation National Competition 2001 yesterday.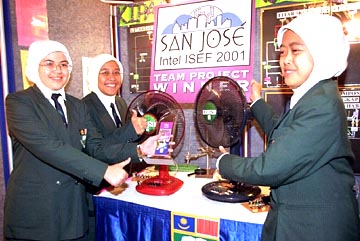 DOING THE COUNTRY PROUD . . . after receiving their awards in Penang Monday.
Salma said they invented the "heat-automated fan'' when their concentration in class was often disrupted by the need to reduce or increase the fan's speed.
"It took us one year under the guidance of physics teacher K. Jeyanathan to come out with the improvised fan which has a built-in heat sensor,'' she said.
The team won a personal computer, a scanner, a printer and RM1,500.
The second prize went to three Upper Six students from SMK Convent Bukit Nenas, Kuala Lumpur, with their project entitled, "The Effect of Alpha Lipoic Acid (ALA) on Atherosclerosis Risk in Ovariectomised Rats''.
R. Sasikaladevi, Chan Giat Yeng and Ong Mei Ling spent five months on the project which would see the ALA acting as an antioxidant to reduce the cholesterol level in menopausal women.
"We believe it will work on humans based on previous researches on ALA,'' said Sasikaladevi after the team had received a PC, a scanner and RM1,200.
The third prize winner was an individual entry from 15-year-old Lim Fang Yun of SMK Sultan Ismail II in Kemaman, with her project "Fortification of Refined Palm Oil Using Vitamin E.''
"Vitamin E injected into palm oil can delay the oxidation of the oil and the cells in our body to prevent certain diseases such as cancer and coronary diseases,'' said Lim, who received a PC and RM900.
The Excellence in Teaching Award was given to science teacher Foo Kian Wah, also of SMK Sultan Ismail II, Kemaman, who received RM1,000.
The first and third prize winners will represent Malaysia at the Intel International Science and Engineering Fair (Intel ISEF) in San Jose, California, from May 6 to 12.